First and foremost:
Below are accounts based on true experience.
It all started with this site... http://www.ironbutt.com/about/about.cfm
Here's what caught our attention:
About the IBA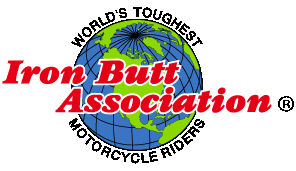 The Iron Butt Association is dedicated to safe, long-distance, endurance motorcycle riding. Although based in the United States, we have over 24,000+ members world-wide. One of our more popular slogans is, "The World Is Our Playground." We host several rides, the most notable being the 11-day, 11,000+ mile Iron Butt Rally[tm]. Additionally, the Iron Butt Association hosts the Saddle Sore 1000[tm] (a 24 hour 1,000 mile ride), the Bun Burner 1500[tm] (1,500 miles in 36 hours), the Bun Burner Gold[tm] (1,500 miles in 24 hours), the 50cc Quest[tm] (Cross Country in 50 hours or Less), the National Parks Tour Master Traveler Award[tm] (visit 50 parks in at least 25 states), the coveted 10/10ths Challenge[tm] (10 consecutive 1,000 mile days) and the almost-impossible to get into 100K Club[tm] (100,000 miles or more in one year).
The Iron Butt Association (IBA) does not have membership in the traditional sense. We do not have yearly dues, formal meetings or a monthly newsletter. The IBA is a little more loose knit organization than most clubs. Generally speaking there are several ways to earn membership. The most notable is to be a finisher of the Iron Butt Rally or a successful finisher of one of the other rides we sponsor, such as the Saddle Sore 1000. Rally workers and supporters are also granted membership status.
The Iron Butt Association publishes several documents about the Iron Butt Rally and Long-Distance Endurance Riding, including our hottest title, the "Archive of Wisdom", which contains a list of Long Distance Riding tips from our most seasoned, veteran riders.
---
And so I figured, why not, since there are people who've done it locally. Maybe we can try going at it. Maybe slightly faster? And so I told this idea to my group of riding friends back in October then, if I'm not mistaken. Many seemed interested. And so, this idea became quite a viable one. Time went along and nothing else was said about the ride as we went about our daily schedules. For me, it was the finals and so, just shelved the idea for the next few months.
Then came December, 2 track sessions later and still no trip. I figured its time for the ride. Rough plans were drawn sometime around the start of the month. either on the 8th or the 9th. The idea of the trip was formally put across to the interested friends. Joshy and Roger responded. Actually, so did Kiri and Kenn...but... Kiri's bike was out for a paintjob and Kenn's bike was... how to put it? .. Not out yet.. hehe.. =P
So this was the plan that I came with for the route:



(It's confirmed during the trip the the distances in between are rather inaccurate)
And so a few days passed with not much mention of the actual departure date of the trip. And I guess it was only on the day of the trip, it was a Monday when I officially made the call to Roger and Joshy to tell them that we would be setting off that very night. Due to predicted thunderstorms in Malaysia throughout the entire week. Surprisingly, they were ready to go too. Went down to the bikeshop for some minor checks and a front tyre change for me. It's waiting till the move out time at 121205 2300hrs.
Our start point: Kovan (Hougang) Shell Petrol Station.
Start Point witnesses: Kenn, Elin, Eien and Official
Reached there around 2240hrs. Joshy, Kenn and Eien were already there. Now awaiting Roger. Pumped up both the tyre pressure to max. And took some photos there.

The Kawasaki ZZR11, also known as the "BULLET", was the oldest bike in the group 13 years old.
World's Fastest Production Bike for almost 10years until Honda's CBRXX Super BlackBird came along

His mileage (on a not so well focused shot). 199427.

My mileage 1713 (why it is so low is another story for another time)

Joshy's odometer reading 115986 (fyi: digital odometers do not reset after 99 999, as shown above)

The bikes. Suzuki GSX1300R Hayabusa and Kawasaki ZZR11 Bullet
Colour transition from black to blue/black to blue.

The riders. (In descending order of height/ ascending order of waist =P ). Joshy, me and Roger.

Here on, we moved off towards Malaysia travelling at highly legal local road speeds of max 100kph on expressways. Took us near an hour to reach our first petrol stop in Gelang Patah, Malaysia.
Petrol Stop 2: Gelang Patah Esso Station

Doing some prep and final checks on the bikes before embarking on a slightly faster travelling speed to the next petrol stop.
Petrol Stop 3: Ayer Keroh Petronas Petrol Station
Was riding halfway towards Ayer Keroh when suddenly *bump and out goes my HID (High Intensity Discharge) headlights. Damn! Flick my headlight switch on off a few times and still nothing. Switch on my highbeam immediately. Luckily it's still working. That was around 15km away from our intended petrol stop. Not a big issue I hope. I was already mentally going through a possible checklist of faults that could cause that failure. I identified that the bump encountered was the cause of the failure and probably it could have broken a fuse. (1st thing to check when I reach). The other possibility which is the worst was a ballast failure. That I was crossing my finger about.
Turns out when i reach the petrol station. The fuse was intact. Looked to the front of the bike and found a dangling wire. The connector to the headlight connector was out. The crimping of that connector wasn't strong enough to hold through the rough ride. Re-cut the wire and connected in another way to the headlight connector. On the ignition, flick on the headlight switch and tadaah! And.. there was LIGHT! The sweet buzzing sound of the ballast warming up was just the sound to hear for relief.

Grabbed a bottle of Red Bull, gulped it down and we're off to the next petrol stop again.
Petrol Stop 4: Tapah Shell Petrol Station
Noticed the consumption of Roger's bike was rather high as his bike would hit reserve before reaching the petrol station. That's probably due to the fact that his bike is running on carburretors. On average he was pumping more petrol for the same distance travelled.

Joshy and Roger still fresh from the ride.

Me and Roger.
Petrol Stop 5: Gurun Caltex Petrol Station
Along the way towards Gurun, we would pass by Kuala Lumpur on the North South Highway, unexpectedly, instead of passing by, we went into KL.. made a small detour there and managed to get ourselves back on the track towards Gurun. Covered a bit of extra distance but the roads that followed allowed us to catch back some precious time. Imagine 3 lanes wide, well lit roads with not much cars.
There was one part especially treacherous where all 3 of us were travelling quite fast when the road turns rather tightly towards the right. Try telling your bike to turn at that kind of speeds. All 3 of us, concluded that we took the same course of actions, which probably saved our skins then. Rolling of the throttle, we all leaned towards the curve and try to keep in the line. But when we finally completed the turn, all of us were like 2 lanes away running extremely wide for that turn.
Next stop would be the Thailand Border already. Target: to reach there before sunrise. Roger found out that his rear wheel tyre wasn't gripping very well and realised that his tyre pressure was a bit too high. A quick deflate got us all back on the NSH heading towards Thailand chasing the dawn.
Turning Point: Thailand Border

The road leading toward the Thailand border really seem endless with bumps and humps that would make you dance whilst sitting on the bike. Endless fields by the road side. Travelling at a much slower speed now, we headed towards what seems like the Thailand border which turns out to be another part of the highway. Endless, I would say, this seemed like the longest 70plus km ever.

Finally, the Malaysian Customs. Bukit Kayu Hitam.
Parked by the road side as we walked to Thailand on foot. (Reasons.. Go figure)

Walking along No-Man's Land towards Thailand. It's a killer to walk with track boots! Big miscalculation on my part!

Roger in Thailand (Technically not so yet. Thailand is behind that wall)

Me too. Not there yet.

Now this is officially Thailand!
---
Stay Tuned for the second installation. The Return.
Photos of the trips can be found here : http://www.picturesky.com/thumbnails.php?album=4524